Crude Oil
Oil prices went bust on Friday snapping a 5 week bull run. Brent settled $ 1.38 cents lower at $55.62 /bbl. WTI settled $1.50 lower at $ 49.29 /bbl.
Market players just could not shake of concerns of crude oversupply even amid all the appropriate statements being made by producers. Nor could the impending impact of Tropical Storm Nate bearing down on the Gulf Coast over the weekend. Or the news that the Baker Hughes rig count fell by 2 rigs to 748, the fourth fall in five weeks.
Contributing to the bearish mode is a large volume of producer hedging. It is reported that as much as 115 million barrels of crude have been hedged since late August when WTI started hovering around the $50/bbl mark.
As per latest news, Tropical Storm Nate made landfall in the US Gulf of Mexico as a Category 1 hurricane. However, no damage is reported by refineries as of now.
With the US closed for the Columbus holiday today, not much activity is expected in the markets today.
Technical Analysis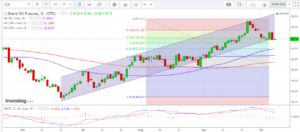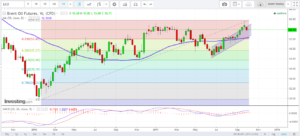 Both Daily and Weekly charts show markedly bearish characteristics. In the daily chart, prices have just about managed to close in the rising channel. In the weekly chart prices, which had closed last week above the rising channel have fallen back into the channel. The daily MACD signal is now in negative territory.
Supports are broadly at $ 55.00, $54.00 and $ 52.65, all Fibonacci levels. The area of $ 54.75 to $ 55.00 would be particularly important in our opinion. Resistances lie at $ 57.00, $ 57.45 and $ 58.36.
Naphtha
The naphtha cracks have reduced slightly even as traders anticipate demand to strengthen over the coming weeks. At least two buyers, namely JG Summit of the Philippines and Fuji Oil of Japan were heard to be in the market looking for cargoes.
The paper crack is valued at $ 2.70 /bbl
Gasoline
Gasoline cracks have come off even as stocks held independently at the storage facilities of Amsterdam-Rotterdam-Antwerp (ARA) refining hub fell 6 % to hit an almost 11-month low of 788,000 MT in the week to October 5.
The October 92 Ron crack is valued lower at $ 11.30 /bbl.
Distillates
The distillate cracks have slipped further as traders are seeing the market to be well supplied. However, several refinery maintenance in Asia and Europe coupled with the usual trend of stronger demand in the fourth quarter are expected to boost margins going forward.
The October crack is valued today at $13.00 /bbl.  The regrade is valued at -$ 0.25 /bbl
Fuel Oil
Fuel Oil Cracks have recovered as traders expect below average flow of fuel oil into East Asia. No fuel oil cargoes were seen to be headed towards Singapore from the Amsterdam-Rotterdam-Antwerp (ARA) region in the week ended October 5. Apart from falling inventories in Singapore, fuel oil stocks held in the Fujairah Oil Industry Zone were also down, falling by 2.384 million bbls to about 9.3 million bbls in the week to October 2.
The October crack is valued higher at -$2.95 / bbl while the visco spread is unchanged at $ 0.55 /bbl.
About this blog
This blog post attempts to give a top level summary of the Singapore market goings on to a person who seeks to obtain a directional sense of the market on a daily basis.
Disclaimer : All the views are the author's personal views. These do not constitute an advice to buy or sell any commodity