Crude oil prices reacted surprisingly negatively to what appeared to be bullish DOE data. Brent settled at $47.32 /bbl, 32 cents higher on the day while while WTI rose 39 cents to $45.52 /bbl.
Prices were trading largely between $ 48.50 and $ 49.00 /bbl for most of the day. After the data, which was decidedly bullish, they spiked to a high of $ 49.18 /bbl. However this spike was short lived as heavy selling soon brought prices closer to the $ 48.00 /bbl levels before the close. Commentators could only attribute this to profit taking.
DOE data
Stocks drew fairly deeply in crude, gasoline and distillates even as refinery runs went up. Crude stocks drew by 6.3 million barrels, gasoline by 1.7 million barrels and distillates by 1.9 million barrels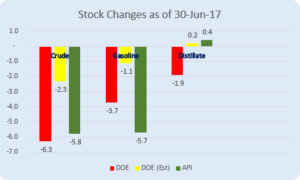 The draw in crude oil is explained largely by a drop in crude oil imports and a rise in exports. Another factor could be a very minimal draw down from the SPR of 400 KB this week as compared to almost a million a week for the past few weeks. A third factor is that around 1.5 million barrels of this draw is in PADD 5.
The bullishness of the crude draw is somewhat mitigated by the report that US oil production climbed back to 9.338 mb/d suggesting that last week's drop in production was only temporary and caused almost entirely by Tropical Storm Cindy.
Gasoline demand continues to disappoint as the 4 week, year on year demand is around 1.4% lower.
However, our attention was drawn by a commentator to the spike in distillate demand. The 4 week, year on year demand is a sizable 5.8%! While the distillate stocks are still high, they are just below 2016 levels.
Naphtha
Naphtha prices have slipped into contango for the first time in nearly four months as the overhang of supplies continues to weigh on prices.
However, the crack vis a vis Dubai has strengthened substantially thanks to the dip in prices. The July crack is valued at -$0.60 /bbl
Gasoline
Gasoline cracks are stronger with strong draws not just in the US, but in Asia and ARA as well. Asian stocks fell by 392 kb in Singapore and by 39 KT in the ARA region. The July crack is at $ 10.90 /bbl
Distillate stocks in Singapore showed a strong build of 1.6 million barrels.  Diesel cracks for July have eased to $ 13.15 /bbl.  The July regrade is marginally better at -$ 1.30/bbl
Fuel Oil
Fuel Oil cracks continued to improve with Singapore reported a 767 Kb drop in stocks. This could be due to a reduction in Fuel Oil imports into Singapore.  Fuel Oil exports to Malaysia (who is normally a net exporter of fuel oil) were reported at a 12 month high of 119 KT. Most of this fuel oil is reportedly going into floating storage rather than consumption.
The July crack is valued at -$0.35 / bbl. The visco spread has widened nominally to $0.90 /bbl.
About this blog
This blog post attempts to give a top level summary of the Singapore market goings on to a person who seeks to obtain a directional sense of the market on a daily basis.
Disclaimer : All the views are the author's personal views. These do not constitute an advice to buy or sell any commodity