Crude Oil
Crude prices fell on Wednesday notwithstanding a draw in crude oil stocks. Brent settled 20 cents lower at $55.80 /bbl. WTI settled 44 cents lower at $ 49.98 /bbl.
The draw in crude failed to enthuse market bulls for a variety of reasons which are elaborated on further in the blog. Adding to the bearish pressure was the resumption of operations at Libya's Sharara fiel.
DOE Data
The DOE statistical report showed crude stock depletions that appeared prima facie bullish. However, market forces chose to look at other factors that  could signal a less bullish picture.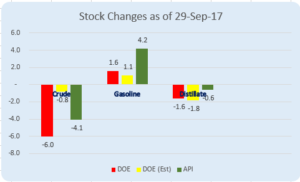 A crude draw of 6 million barrels against a market expectation of a nominal draw should have certainly been more bullish than the markets appear to have treated it. The market appears to have coupled the draw with the increase in exports of nearly 500 kb/d as well as the drop in imports of 600 kbpd and figured that the stock position is nearly flattish.
Secondly, even though crude stocks are dropping they are pretty close to last year's highs for this time of the year.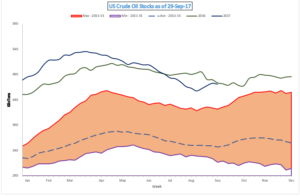 Gasoline demand has fallen to 9.2 kb / d. While distillate stocks have fallen, distillate exports have risen by 250 kb/d. Refinery utilization rates have surprisingly dropped to 88.1% last week suggesting that any distillate shortfall could be covered by ramping up run rates or by curtailing imports.
Naphtha
The physical naphtha crack dropped to nearly a 3 week low of $ 91.2 / MT. The crack seemed weighed down by weakness in the gasoline market rather than lack of demand for naphtha.
The October crack is lower at $ 1.85 /bbl
Gasoline
The gasoline crack is marginally lower today as the stcok build in the US will cascade to Europe and eventually, Asia.
The October 92 Ron crack is valued at $ 10.70 /bbl.
Distillates
The distillate cracks strengthened significantly today on the back of renewed demand.
The October crack is valued today at $13.30 /bbl.  Jet has not fallen as much resulting in the regrade returning to positive territory at $ 0.10 /bbl
Fuel Oil
Cash differentials on 380 cSt fuel oil fell to a  two week low on aggressive supplier offers in the window yesterday. However the October crack as well as visco spread is unchanged at -$2.70 / bbl and $ 0.55 /bbl respectively.
About this blog
This blog post attempts to give a top level summary of the Singapore market goings on to a person who seeks to obtain a directional sense of the market on a daily basis.
Disclaimer : All the views are the author's personal views. These do not constitute an advice to buy or sell any commodity