Crude Oil
Crude Oil snapped a 7 day winning streak to settle lower yesterday albeit marginally. Brent and WTI both gave up 8 cents each yesterday to settle at $61.29 /bbl and $54.30 /bbl respectively
It is actually hard to say that yesterday was a losing day especially with the longer dated curve remaining firmly backwardated. But it basically has given a subtle message that the high crude draw is not enough to push prices much higher from here.
DOE Data
The DOE reported that crude stocks fell last week by 2.4 million barrels. While Gasoline stocks also fell by a large 4.2 million barrels, Distillate stocks reported a very small draw of 320 kb.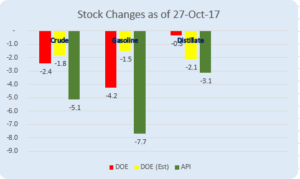 The distillate draw was particularly disappointing as also the crude draw. Further, the disparity with the API data was so much, that the markets must have been disappointed for the immediate future.
The gasoline draw is a bit difficult to explain. We had production going up by 250 kbpd. We had imports up by 300 kbpd. We had exports down by 150 kbpd. And we had demand up by 150 kbpd.
The statistics above would suggest that gasoline stocks should built rather than drawn. Unless we are missing something here.
Having said the above, the gasoline demand was higher by approximately 1.5% week on week and a healthy 3.5% year on year as we come to the end of the driving season.
Compared to gasoline, the drop in distillate demand year on year is extremely disappointing. Distillate demand was 3.86 mbpd last year against 3.53 this year a drop of 8.5%. The four week average is even worse at a drop of 9.3%
It is therefore hard to find any bullishness in the data.
Naphtha
The physical naphtha market continues to climb settling at $119.35 /MT yesterday which is its highest since January  8, 2016. The paper cracks are also following suit.
The paper crack for November is valued higher at $ 3.75 /bbl.
Gasoline
The physical gasoline crack also rose yesterday settling at a two-week high of $10.33 /bbl The Platts Asian Trading window witnessed 3 gasoline cash deals.
The November 92 Ron paper crack is valued higher at $ 11.60 /bbl.
Distillates
Distillate markets remain subdued in the wake of muted demand and excess supplies. The bearish sentiment is further strengthened with traders anticipating more supplies to hit the market with China having approved five million tonnes of fuel export quotas for the rest of 2017 after its refiners asked for additional permits to ship out surplus fuels.
The November gasoil crack is lower at $ 12.25 /bbl today.  The regrade has moved up to $ 0.45 /bbl.
Fuel Oil
The fuel oil cracks are unchanged today as the market remains well supplied.
In other news, Aegean Bunkering Pte Ltd will halt physical supply operations in Singapore by January 2018, becoming the fourth such firm to exit the world's largest marine refuelling hub.
The November 180 cst crack is unchanged at -$1.70 / bbl. The visco spread is also unchanged at $ 0.80 /bbl
About this blog
This blog post attempts to give a top level summary of the Singapore market goings on to a person who seeks to obtain a directional sense of the market on a daily basis.
Disclaimer : All the views are the author's personal views. These do not constitute an advice to buy or sell any commodity