Crude Oil
Oil prices settled close to 3 and a half year highs as the US pursued its plan to block Iran. Brent crude (August contract) jumped $ 1.62 to settle at $79.12 a barrel. The July contract expired on Friday at $ 79.44 (up $ 1.59). WTI rose 70 cents to settle at $74.15 a barrel. 
For the week, Brent gained 5.2% while WTI gained 8%. 
This morning though, crude has opened significantly lower in the wake of President Trump's tweet that King Salman had agreed to his request to increase production by maybe 2 million barrels to make up for the crude lost by shutting out Iran.  It was later clarified that this increase would be made if deemed necessary.
Iran, in response to the tweet urged Saudi Arabia not to take any unilateral action that would undermine the unity of OPEC.
In other news, the number of active rigs in the US fell by 4 to 658.

02 July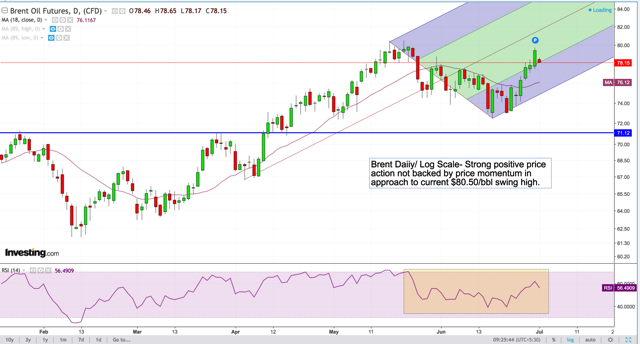 Over the 2 weeks ending 29 June 2018, Brent reverses the almost all decline since the recent top at $80.50-mid May'18. Last week was a strong up-trending week, aided by a flurry of short covering coming in above the 50DMA-$75.80/bbl. Withe a close of 79.44, Brent posts the highest weekly close since Nov2016, higher even that the weekly close made during the recent swing high of $80.50/bbl.
Despite the strong showing on price, momentum indicators still lag. This suggests that while we look at an probable attempt at taking out the current swing highs, price unlikely to sustain at these levels for now. We are possibly looking at a broad consolidation range on $74-81/bbl for now, while momentum catches up.
This view is further strengthened by the monthly price chart. On the monthly basis, June has essentially consolidated May18's range, while still managing to close positive. This coincidentally comes after the first Long term targets at $75-78/bbl are met and sustained. Big picture upsides remain for the second target at $90-92/bbl till the $72/bbl levels hold up.
Trading View
The downside targets of our earlier short view are briefly met, and stops at $75.80/bbl are taken out. Since we expect saw-back consolidation for a while, look to trade long the 76-81 range. Best long entries are near $77-77.50/bbl. Stop under 76. Trading ranged action is best left to the aggressive traders. Directional traders could find themselves waiting a bit before seeing momentum driven gains
Supports and Resistances
Supports appear at $ 78.70 and then $ 77.50 and then $ 76.40-50 area.
Resistances would appear to be first around $ 80.00 as a psychological number and then around $ 80.50.
Naphtha
Asia's naphtha crack rose on Friday to reach a two-week high of $78.13 a tonne supported by a string of buyers seeking cargoes this week. Apart from Taiwan's two key importers being out in the market this week, South Korea's Hanwha, KPIC, LG Chem, Japan's Idemitsu and China's Unipec were all seeking spot cargoes for August. 
The July crack has improved to -$ 2.15 / bbl
Gasoline
Asia's gasoline crack, unlike naphtha, fell to a 1-1/2 week low of $3.85 a barrel on sufficient supplies.
The July crack is stronger at $ 7.40 / bbl.
Click Here for a graphical depiction of Global Gasoline stocks by region.
Distillates
Asia's cash differentials for 10ppm gasoil dropped to their lowest this year on Friday, with concerns that near-term demand will not be able to keep pace with growing supply owing to a seasonal drop in consumption.
The front-month spread for gasoil with 10ppm sulphur content has moved into a contango structure this week after staying in backwardation since early March. 
Cash differentials for gasoil with 10ppm sulphur content widened their discounts on Friday to a discount of 15 cents a barrel to Singapore quotes, against 14 cents on Thursday. This is the lowest level this year.
Meanwhile, jet fuel cash differentials narrowed by a cent to a discount of 33 cents a barrel to Singapore quotes.
The July crack is lower at $ 12.10 / bbl with the 10 ppm crack at $ 13.00 /bbl. The regrade is higher at $ 1.40 /bbl
Click Here for a graphical depiction of Global Distillate stocks by region.
Fuel Oil
Asia's 180-cst fuel oil crack for June ended at an average of a $5.50 discount to Singapore benchmark prices, making this the highest monthly average since November 2017 buoyed by tight supply. A massive build-up of stocks seen in Europe but that has not bolstered imports into Asia this month.
The July crack is steady at -$ 1.95 / bbl with the visco spread at $ 1.30 /bbl
Click Here for a graphical depiction of Fuel Oil stocks by region.
Hedge Recommendations
Since we have Q3 positions open, we are splitting them into monthly positions and closing out the July month of these positions.
Hedge recommendations are essentially made for refiners. These are not trading positions as such. The rationale of these positions is to lock in extraordinary levels for the refiner.
Click Here to see how all our recommendations have fared
About this blog
This blog post attempts to give a top level summary of the Singapore market goings on to a person who seeks to obtain a directional sense of the market on a daily basis.
Disclaimer : All the views are the author's personal views. These do not constitute an advice to buy or sell any commodity