Over the last few days, gasoil cracks have been strengthening quite significantly. The July gasoil crack has increased from a value of around $ 14.25/bbl at the start of the month to almost $ 16.00 /bbl today. In this background, we take a look at what is happening fundamentally.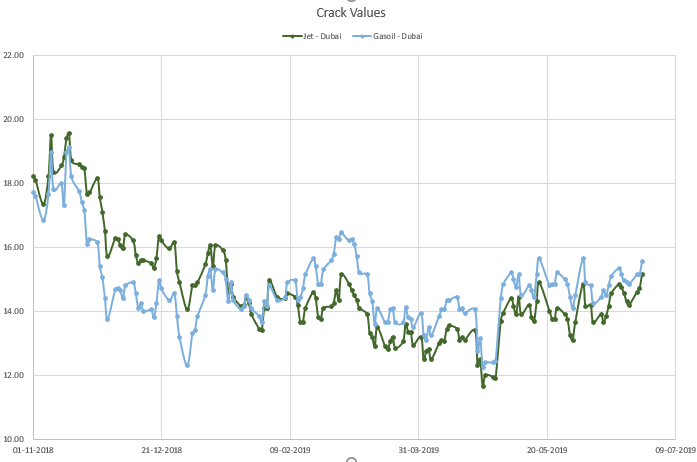 There are essentially 3 drivers to the growth in the refining margin (crack) of a product. These are
Fundamental spot demand
This would manifest itself in hectic deal activity in the Platts window with strong jumps in the premia paid for cash transactions. With the limited access that we have to markets, we are unable to see such activity. Nevertheless, the reported premiums in the market would make it fairly clear that this is not the case.
depletion of stocks
Once again, if we take a look at inventory levels in both Asia and Europe, we can see that inventory levels are fairly comfortable, especially when we take last year's levels into accounts.
anticipated demand growth
Demand growth for both Gasoil and Jet appears to be muted. In our OPD of 26th June, we had reported a statement from Indian Oil Chairman,Sanjiv Singh where he had downgraded growth expectations for transportation products quite significantly. With dismal growth of automobile sales in both China and India, the two major growth centres in Asia, it is hard to see demand grow substantially from here.
The only place where there could be a spike in demand growth would be because replacement of Fuel Oil in Jan 2020 due to Marpol Regulations. And this may be leading to activity in the paper markets which is pushing cracks up.
conclusion
In short, we do not see any particular driver that is warranting this movement of the middle distillate cracks. Since these levels are higher than the 80th percentile of crack levels in the last five years, we have recommended hedging the Gasoil cracks for the rest of 2019.